Veislyno istorija prasidėjo 2001 metais, kai įsigijome pirmąją gelsvą labradorę EGIDA TOTEMAS (Mitrą). Mitra buvo puiki pagalbininkė ančių medžioklėse, pakerėjo savo elgesiu, švelnumu, charakteriu bei protu. Tai buvo nuostabus augintinis, kuris sužadino meilę labradorams, todėl netrukus pas mus namie atsirado šokoladinė labradorė Donna Dior Okeanas. Donna tapo daugkartine parodų nugalėtoja ( LT-LV-EST-BALT JCH, LT-EST-BY CH,LT JN'04, 4xCACIB,4xBOB). Šios dvi labradorės tapo mūsų veislyno pradininkėmis, kurių liniją veisiame iki šiol.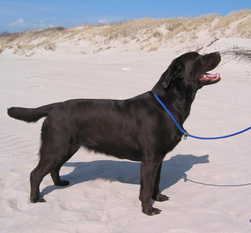 Our labradors are intelligent, smart, easily trained, desiring to please their owners. Water, swimming and diving are their passion. We live in a big homestead near forest, so our dogs are provided with perfect conditions to live healthy and active life. They can swim at our pond and run without restrictions in a wide area.
Veislynas "Medeinė" registruotas Tarptautinėje kinologų federacijoje ( Fédération Cynologique Internationale, FCI). Taip pat esame Lietuvos retriverių mylėtojų klubo bei Šiaulių Šunų mylėtojų klubo nariai. "Medeinė" veislyno vardas paplitęs ne tik Lietuvoje, bet ir užsienyje: mūsų veisimo šuniukai iškeliauja ir į kitas Europos šalis.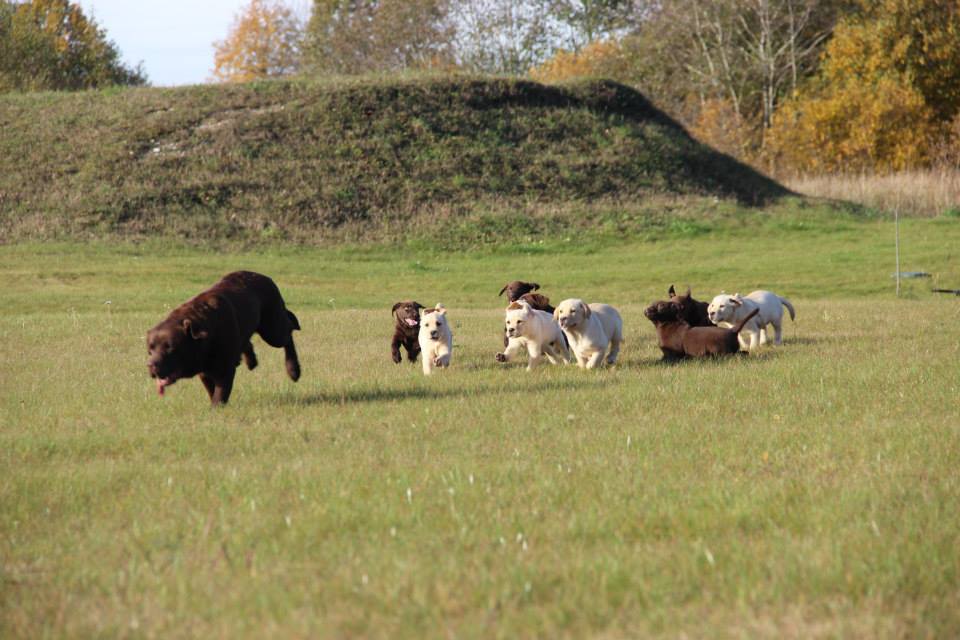 Our puppies go to their new homes not younger than two months old, with FCI/LKD pedigree document, mikrochip, EU pet passport, vaccinated, a few times dehelmined according to their age. We sign a dog's disposal contract, by which new owners promiss to look after a dog carefully and vaccinate periodically.
You will always see calmness, unconditional trust, and friendship in your labrador eyes.These puppies will make you happy in your everyday life: they can be good helpers at hunts and perfect leaders at dog shows. A good health is inherited from their parents, which have all clinical researches of elbows and eyes.We provide information about *choosing the most suitable dog for you, *elementary knowledge for the owner, * training lessons, *preparing for the dog shows.